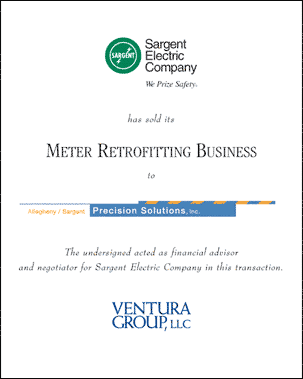 Sargent Electric Company is a nationally ranked electrical contracting company with approximately $100 million in revenue and 800 employees. The privately owned firm was founded in 1907 and is headquartered in Pittsburgh, Pennsylvania.
The Meter Retrofitting Business, profitable and growing, uses industry leading inventory control and data management systems to retrofit electric utility meters for automated meter reading.
Allegheny Financial Group purchased the business utilizing the newly formed Allegheny/Sargent Precision Solutions, Inc. for the acquisition and subsequent operation of the business.
Ventura Group, LLC served as financial advisor and negotiator for Sargent Electric. Chief Executive Officer Fred Sargent commented "Bob Ventura and Glenn Flickinger demonstrated experience and judgment in running a competitive process that produced multiple potential buyers and a positive outcome in both the transaction and for our future prospects in the Automated Meter Reading (AMR) industry."
Sargent Electric will continue to have a leading role in AMR field services and will maintain an ongoing relationship with the new Allegheny/Sargent Precision Solutions, Inc.