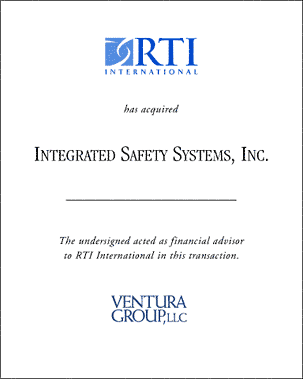 RTI International is an independent, nonprofit 501 (c) (3) corporation with a distinguished history in scientific research and technology development. The firm employs more than 2,200 people worldwide with more than $500 million in revenues in 2005.
RTI's Health Solutions business unit provides services to the pharmaceutical, biotechnology and medical device industry. RTI Health Solutions operates in both the United States and Europe and has expertise in epidemiology, biostatistics, health economics, psychometrics, reimbursement strategy, medical writing and clinical development.
The acquisition of Integrated Safety Systems adds depth to RTI Health Solutions' existing integrated safety expertise and brings new capabilities in pharmacovigilance, the process of monitoring the safety of medicines, an essential activity for evaluation of the risk-benefit relationship of drugs.
"Ventura Group advisors are consummate professionals, leaving no stone unturned and sharing great insight in structuring and nedotiating deals. "
– Allen W. Mangel, Senior Vice President, RTI Health Solutions