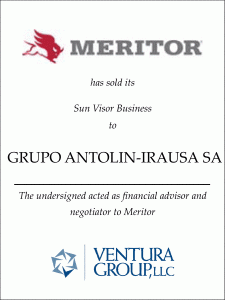 Meritor Automotive, Inc. (NYSE: MRA), now Meritor, Inc. (NYSE:MTOR) was a premier $4 billion global supplier of a broad range of integrated systems, modules and components to the motor vehicle industry. The company served light vehicle, commercial truck, trailer and specialty original equipment manufacturers and related aftermarkets. The company, headquartered in Troy, Michigan, employed 32,000 people at more than 150 manufacturing facilities in 27 countries.
The sun visor business located in Rupt, France is a supplier to major automobile manufacturers, but did not fit into Meritor's long-term systems strategy.
Grupo Antolin, headquartered in Burgos, Spain, is a worldwide supplier of systems, components and services to automobile manufacturers. The sun visor acquisition fit into its headliner systems in which the company is a world leader. Revenues for Grupo Antolin exceeded one billion Euros in 2002.
Juan De La Riva, Senior Vice President, Corporate Development and Strategy stated, "We had complete confidence in entrusting this divestiture to Bob Ventura and again achieved a successful outcome."