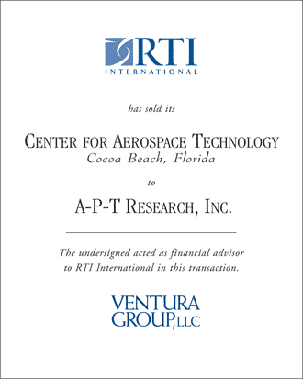 RTI International, the nation's second largest independent nonprofit research organization, offers innovative research and technical services to governments and business worldwide in the areas of health and pharmaceuticals, education and training, surveys and statistics, advanced technology, governance, economic and social development, energy and the environment. RTI has more than 2,500 staff members worldwide with 2006 revenues in excess of $550 million.
RTI's Cocoa Beach based Center for Aerospace Technology (CAST) provides space launch safety, risk assessment and other related technical services to government and commercial customers. CAST has made significant contributions to the U.S. space program.
A-P-T Research, Inc. is an engineering services company providing independent analyses and recommendations in systems engineering, quantitative risk assessment, test planning, range safety, system safety, explosives safety, industrial and quality engineering, software development and modeling, and related areas.
"For more than five years, Ventura Group has been a trusted advisor. Not only do they provide exceptional transaction skills and creativity in deal making, but they work like partners with my legal team. At the end of the day, that allows us to achieve our transaction objectives while significantly reducing our overall transaction cost. "
– J. Scott Merrell, Senior Vice President, Secretary, and Chief Legal Officer, RTI International
Michael Heck, Director of RTI's Center of Aerospace Technology, said of Ventura Group, "Your contributions were invaluable."