Allegheny Industrial Asso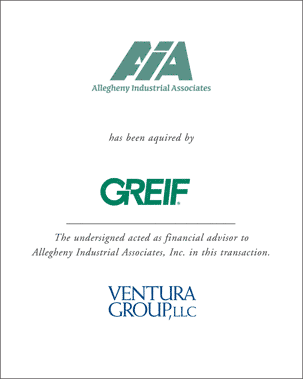 ciates, Inc. ("AIA") is a leader in freight damage prevention and load securement.   The privately held company was founded in 1991 and is headquartered in Pittsburgh, Pennsylvania with its operational center located in Nashville, Tennessee.
AIA provides its clients with customized load securement systems to prevent damage to freight in various settings including rail and over-the-road carriers.   In addition, AIA utilizes cutting edge technology and design systems to deliver computer-assisted drawings of load plans for training and assisting its clients' shipping departments.
Greif, Inc (NYSE: GEF) is a world leader in industrial packaging products and services.   The company, based in Delaware, Ohio, has extensive experience in steel, plastic, fibre, corrugated, and multi-wall containers and protective packaging for various industries.   AIA will become part of Greif Packaging Accessories, the company's load securement business.
Greif has over 200 operating locations in 48 countries around the world and reported net income of $234 million on record sales of $3.8 billion for its fiscal year ending October 31, 2008.
Ventura Group, LLC served as a financial advisor and negotiator for Allegheny Industrial Associates, Inc.
AIA Chief Financial Officer and shareowner, Jeff Blosel, commented on Ventura Group's indispensable contribution to the process, saying:
"Given the downturn in the economy, we would not have gotten the price that we did, let alone complete a deal, without Ventura Group."